Audiology Services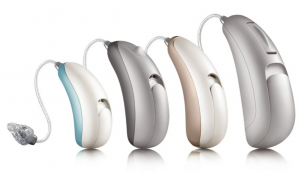 WE OFFER ALL STYLES OF HEARING AID PRODUCTS.
These include the major types offered by all manufacturers:
Receiver-the-ear (RIC) is the most common style of hearing aid worn. It is a discreet device, hidden behind the ear, with a wire leading to a receiver and earpiece in the ear canal. These can be rechargeable or work with traditional batteries.
Behind-the-ear (BTE) is positioned behind the ear and is connected by clear tubing to an ear mold or dome. These can be rechargeable or work with traditional batteries.
In-the-ear (Custom) hearing aids are custom-molded shells that contain all of the hearing aid mechanisms—sizes range from Completely in the Canal to Full Shell.
DID YOU KNOW
Healthy hearing not only helps you hear better, but it can improve your social life and keep you active. In fact, research shows that better hearing can help reduce anxiety and frustration, improve cognitive function, and improve your overall quality of life. And the great news is, today's hearing aids are much more sophisticated than those from past years. Now you can get amazing, high-fidelity sound and clear understanding of speech from hearing aids that are virtually invisible when worn in the ear.

HEAR BETTER.
LIVE BETTER.
FEEL BETTER.
TRUST OUR EXPERTS
Our experienced staff of hearing professionals is dedicated to helping each of our patients achieve better hearing. We do this by taking the time to find the right solution to fit your needs. Our thorough evaluation process gathers the information we need to determine the type of hearing loss you face and the best way to overcome it. Together, we will get you on the path to better hearing.
WE CAN HELP
Our years of experience make us a leader in hearing health. We provide our patients with the highest quality comprehensive hearing care. We are fully knowledgeable on all of the hearing aid options and can ensure you receive the right solution for your type of hearing loss.

UNIQUE SERVICES
Comprehensive hearing evaluations
Flex-Trial program allows patients to try a hearing aid for a week or two at no charge
Top-quality hearing aids and assistive listening devices
Three-year warranty
Cleaning and adjustments, included with hearing aid
FREQUENTLY ASKED QUESTIONS
Can you share a bit about the process and timeline of getting hearing aids?
The patient sees Dr. Lazar and has a complete otologic and hearing evaluation. If he determines the patient is a candidate for hearing aid(s), then we schedule an appointment for a more thorough evaluation and fitting with a trial hearing aid that the patient can actually take home for a week or so to determine if it helps them in their own environment.
What is your Flex-Trial program? Our Flex-Trial program allows a patient to try the hearing aids at home and in their daily lives so they have a more realistic idea of the benefits of amplification. Usually, a week or two is ample time to get used to the hearing aids and see if they help.
How long does it take to get hearing aids in once chosen? Hearing aids can be delivered within 2 days. We have the patient come in for a hearing Aid Orientation where we go over use and care of the instrument(s) and make any adjustments necessary for an optimal fit.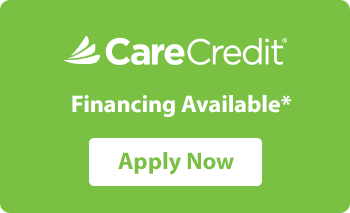 WE OFFER THE LATEST IN HEARING TECHNOLOGY, INCLUDING A VARIETY OF SIZES AND STYLES TO FIT YOUR NEEDS.
The ENT Memphis Audiology Team
Dr. Chris Hylander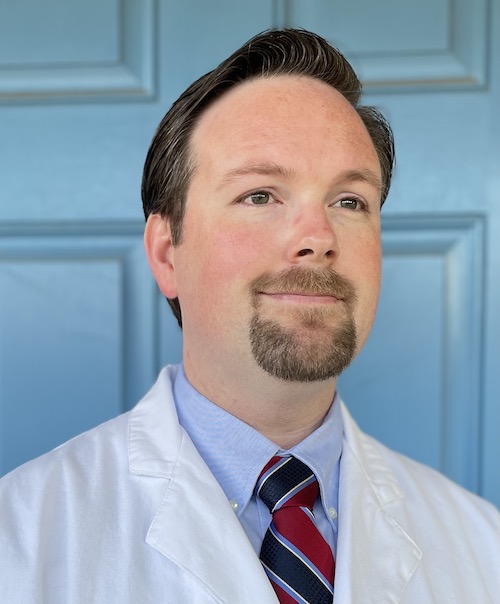 Dr. Chris Hylander, Au.D, CCC-A received his Doctorate of Audiology from the University of Memphis, Master of Business Administration from Trident University International, and undergraduate degree from the University of Mississippi. He earned and maintains his Certificate of Clinical Competency in Audiology from the American Speech-Language-Hearing Association. Dr. Hylander has also served on the board of Tennessee Association of Audiologists and Speech-Language Pathologists as a Student Ambassador and is currently an active member and volunteer.Prior to beginning his education in Audiology, he served in the United States Air Force for eight years. He became interested in Audiology upon his return home from service while taking his grandmother to her ENT and Audiologist. This experience personally proved how limiting an impairment can be on activities for the patient and his/her family. Thus, Dr. Hylander is committed to increasing accessibility of hearing health care for all ages, including the dispensing of amplification devices to change lives through excellent patient care and product knowledge.